Are Protein Shakes Good for You? Here are Some Delicious Recipes to Make Homemade Protein Shakes
Protein shakes are the most popular and healthier nutritional supplements that can meet your daily protein goal. These protein-packed supplements are a convenient addition to your diet, especially when you can't get high protein diet. Protein shakes can be used as a convenient breakfast and post-workout drink for muscle repair. They are good for weight loss, building muscle, reduce hunger and improve your overall health. According to recent studies, drinking protein shakes before bed prevent muscle breakdown and promote your overall health.
What are Protein Shakes?
Protein shakes are drinks that are an excellent way to give your body a significant energy boost. Providing your body with the optimal amount of protein will provide the greatest health benefits. These fresh homemade protein shakes can fill you up and boost your energy. To make a protein shake, you need ¾ cup of liquid and 1/3 cup of the main protein source. You can make protein shakes in your own style and add fruits, veggies, nuts, and seeds to enhance the flavor. You can also add natural sweeteners, dried pitted dates or anything you love most to increase its nutritional value.
Types of Protein Powder
There are different types of protein powder available in the market to make protein shakes. Each protein type has its own characteristics and benefits; you can use any of them to make flavorful protein shakes.
Whey Protein
It is a dairy-based protein that contains all the essential amino acids that can stimulate muscle protein synthesis. It is quickly absorbed by the body and used in many post workouts drinks.
Casein Protein
It is a slowly digested, dairy-based protein that also contains all essential amino acids.
Soy Protein
It is a plant-based protein that contains isoflavones and all essential amino acids.
Hemp Protein
It is a plant-based protein that contains omega 3 and omega 6 fatty acids but lacks the essential amino acids lysine.
Rice Protein
A plant-based protein that lacks the essential amino acid lysine.
Pea Protein
Another plant-based protein that is low in the essential amino acid cysteine and methionine.
Why Are Protein Shakes Good for Your Health?
It is highly recommended to consume protein shakes everyday as part of a healthier lifestyle. Adding homemade protein shakes to your diet is a healthy way to give your body a boost, build your muscle, help you stay full longer and prepare your body to perform all day long. They help your muscles to recover after a workout and prepare your body for the next workout session.
Drinking homemade protein shakes is a sensible choice to stay healthy and fit. Let's check out some important reasons why you should drink protein shakes and how they are good for your health.
Proteins Shake Helps You Lose Weight
One of the significant benefits of consuming homemade protein shakes is weight loss, especially from the belly area. Protein is the most important nutrient for your body that can boost metabolism, suppress your appetite, and help you lose body fat without losing muscle mass. Drinking protein shakes is the easiest way to supply your body with enough protein your body needs to perform actions and reduce your weight. So, fill your diet with protein shakes to increase your daily protein intake.
Protein Shakes Control Your Appetite
Protein has an amazing property to decrease hunger and appetite. It increases the level of appetite-controlling hormone and reduces the level of hunger stimulating hormone. Plus, it helps you feel satiated for longer, which can help you eat less and lose body fat. This is why adding protein shakes to your diet is a good choice to provide your body with the adequate amount of protein needed by your body.
Protein Shakes Boost Your Metabolism
Protein has a miraculous property to boost your metabolism that will eventually speed up the calorie-burning process. When you are on a high protein diet or drink protein shakes, it will take more calories to digest and metabolize it.
Protein Shakes Stimulate Muscle Growth
Consuming protein shakes on a daily basis is a healthier choice to fulfill your daily protein target and refuel muscle after exercise. Consuming protein shakes helps stimulate muscle protein synthesis and speed up the process of muscle growth by maintaining a cycle of amino acid depletion and feeding. So, it is important to consume the right amount of protein to maintain a balanced environment for building muscle.
Protein Shakes Improve Athletic Performance
Consuming protein shake can improve athletic performance. It enhances muscle growth, strength, and lean mass. In addition, drinking protein shakes can improve strength during workouts while increasing your ability to exercise longer. It also improves muscle adaption to exercise training
How to Make Homemade Protein Shake?
So, you have a clear idea of why protein shakes are important for you and how they are good for you. Now, it's time to know how to make your own homemade protein shake.
Here are some easy recipes for delicious and healthier protein shakes.
Almond-Coconut Protein Shake
Almond coconut protein shake can provide you an extra dose of protein and omega 3 fatty acids. To make this delicious shake, you need almonds, cinnamon powder, honey, ground flaxseeds, milk, and water. Blend the almonds and coconut together, add milk, cinnamon powder, ground flaxseed, honey and blend to get a smooth shake.
Apple Pie Protein Shake
When it comes to eating healthy, you should try this homemade protein shake that offers the amazing flavor of apple pie. You need vanilla protein powder, ice, cinnamon powder, spinach, oats, vanilla yogurt, apples and water to make this delicious shake.
High Protein Strawberry Banana Smoothie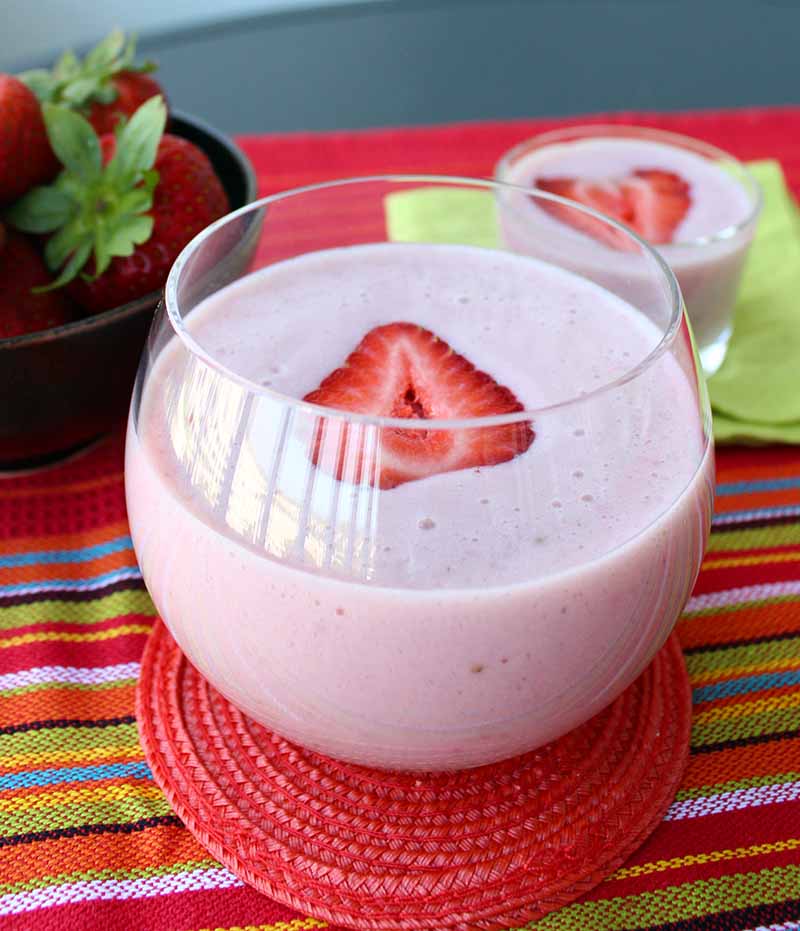 This healthy and flavorful strawberry banana smoothie is loaded with protein that can give you a significant energy boost. The refreshing shake contains bananas, strawberries, flaxseed, and vanilla protein powder. It is a perfect way to refuel your body after an intense workout with this super easy and healthy protein shake.
Chocolate Protein Shake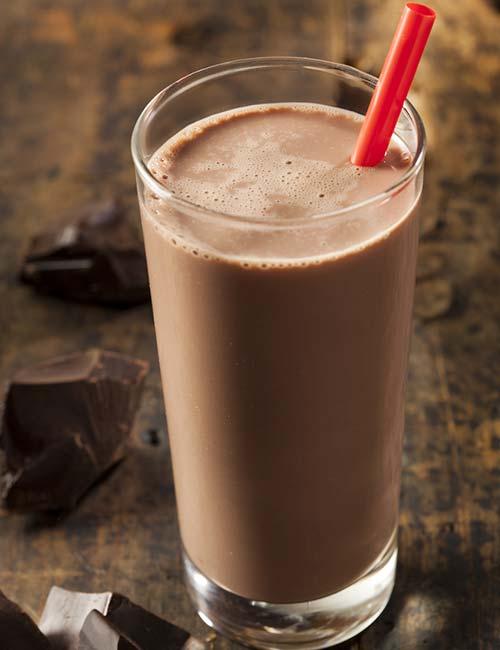 A perfect and healthy option for chocolate lovers that tastes great. Chocolate protein shake is super easy to make and an instant mood booster. To prepare chocolate protein shake, you need a chopped apple, almond butter, dark chocolate, cocoa powder, milk, and yogurt. Blend all the ingredients and enjoy.
Soy Milk-Strawberry Protein Shake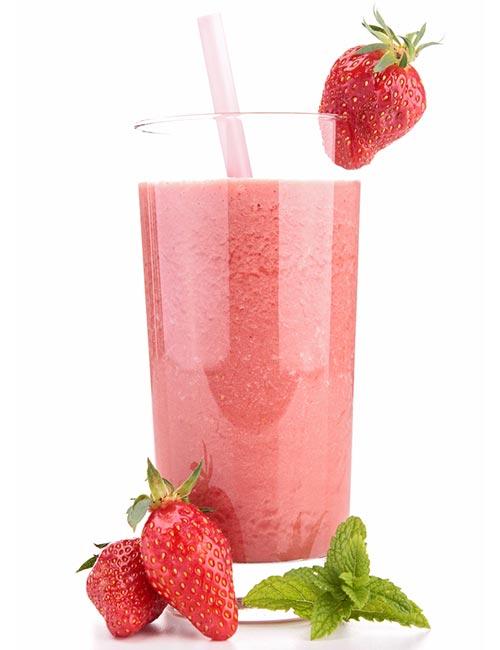 A healthy and flavor-rich protein shake is a good option for kids and adults both. To prepare soy milk strawberry protein shake, you need soy milk, strawberries, almond, melon seeds, and cocoa powder. Blend all the ingredients to make a thick smoothie.
Oatmeal Cookie Protein Shake
This super yummy protein shake can satisfy your sweet cravings without hitting your calorie target. You should try this protein-packed, healthy, and extremely delicious protein shake recipe. You need almond milk, banana, oats, vanilla protein powder, raisins, and cinnamon powder to make this highly nutritious and yummy homemade protein shake.
Alphonso Mango-Almond Milk Protein Shake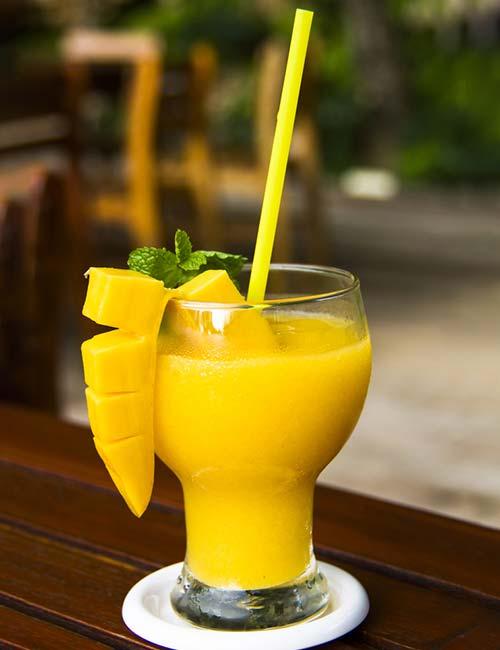 This yummy and healthy protein shake is a great post-workout shake that can instantly replenish your energy stocks. Almond milk and chia seeds are loaded with protein and are good for muscle recovery. To prepare this delicious shake, you need alphonso mango, almond milk, chia seeds, and yogurt. Blend all the ingredients and enjoy.
Banana, Ragi, And Chia Seeds Shake 
Ragi or finger millet is a very good source of protein, calcium, and dietary fiber. Banana, ragi and chia seeds shake is an excellent option to fill you up for longer and improve your energy levels. You need bananas, sprouted finger millet powder, chia seeds, almonds, and milk. Blend all the ingredients to make a smooth, thick shake.
Reese's Peanut Butter Cup Protein Shake
This peanut butter cup protein shake is rich and creamy, an excellent breakfast or snack. To make this healthy protein shake you need cottage cheese, stevia, water, cocoa powder, peanut flour, and protein powder. Add all the ingredients into a blender and blend until smooth, creamy consistency is reached.
Peach Pie Protein Shake
It is a good option for those following a low carb diet, full of protein and flavors, give you an instant energy boost. To make this yummy peach pie protein shake, you need almond milk, vanilla whey protein powder, peach, banana, almond extract, and whipped cream. Place everything in a blender and blend until
Almond Joy Protein Shake
Try this extremely rich and flavorful protein shake recipe that tastes like almond joy candy bar. This delicious and healthier smoothie contains almond milk, chocolate protein powder, almonds, and coconut flakes. Add all ingredients into a blender to make a smoothie.
Oatmeal-Apple Protein Shake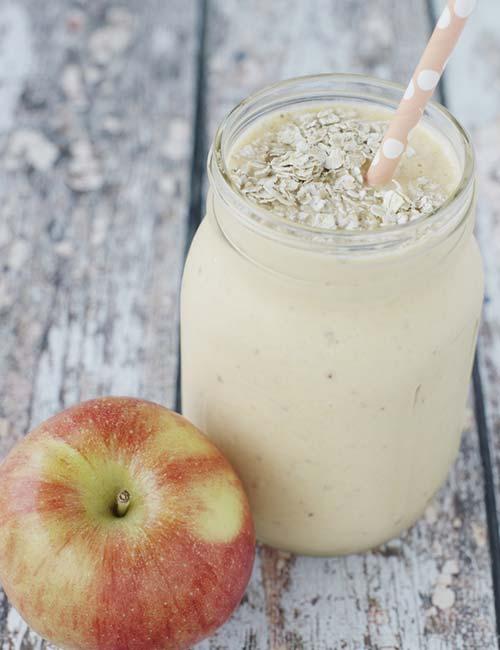 It is a great option for breakfast that can keep you full for a long time. To make this flavorful protein shake, you need oatmeal, milk, chopped apple, almond butter, and cocoa powder. Blend all the ingredients to get a smooth shake. Drink it every day to reap its nutritional benefits.
Hot Chocolate-Cashew Meal Replacement Protein Shake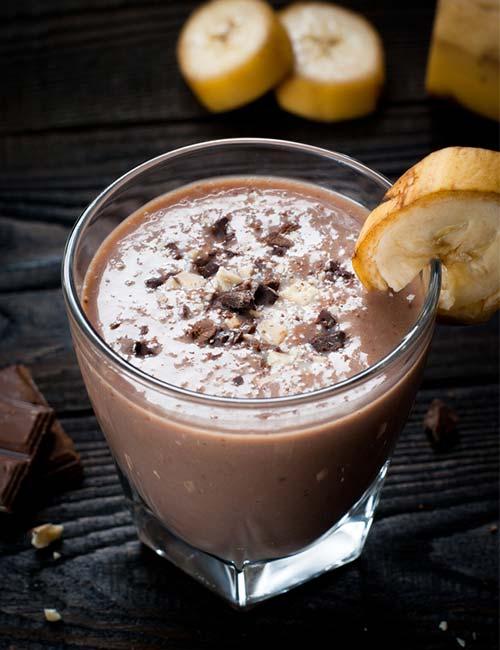 Another delicious and protein-packed smoothie that is a great breakfast replacement meal. It contains banana, full-fat milk, cashew nuts, and grated dark chocolate. Add all the ingredients into a blender and enjoy.
To make your own protein shakes, you can also try these yummy and healthier protein shake recipes.
        Hemp Green Protein Shake 
        Blueberry, Almond Butter, And Banana Smoothie
        Sattu (Roasted Gram Flour) Low-Calorie Protein Shake 
        Almond-Cocoa Milkshake
        Vegan Pea Protein Meal Replacement Protein Shake
        Vegan Raspberry-Banana Protein Shake
        Chilled Caramel Macchiato Protein Shake
        Banana Split Protein Shake
        Vanilla Chai Protein Shake
        Frosted Sugar Cookie Protein Shake
        Banana Pudding Protein Smoothie
        Coconut Cream Pie Protein Shake
        Root Beer Float Protein Shake
        Red Velvet Cheesecake Protein Shake
        Key Lime Pie Protein Smoothie
        Cinnamon Roll Protein Shake
        Peaches and Cream Protein Shake
        Dark Chocolate and Peppermint Protein Shake
        Cookies and Cream Protein Shake
        Upside Down Pineapple Cake Protein Shake
        Strawberry Coconut Protein Shakes
        Cookie Bar Protein Shake
        Vanilla Bean Protein Frappuccino
        Café Mocha Protein Shake
        Snickerdoodle Protein Shake
        Salted Caramel Mocha Protein Shakes
        Strawberry Cheesecake Protein Smoothie
        Creamsicle Protein Shake
        Shamrock Protein Milkshake
        Birthday Cake Protein Shake
        Chocolate Covered Strawberry Protein Shake
        Iced Coffee Protein Shake
        Pumpkin Protein Shakes